ABOUT
Extended Play is an online platform for creative and critical discourse devised by the Civilians, a company that makes new theater from investigations into the most vital questions of the present. Through a number of artistic programs, the Civilians advances theater as an engine of artistic innovation and strengthens the connections between theater and society.
An artist-led company, the Civilians pursues our artistic mission through programs serving artists and the public. The company's work is grounded in investigative theater, an artistic practice rooted in the process of creative inquiry that brings artists into dynamic engagement with the subject of their work. Artists look outward in pursuit of a question, often engaging with individuals and communities in order to listen, make discoveries, and challenge habitual ways of knowing.
Extended Play is a new online hub for artists and audiences to explore the many forms of investigative storytelling. We feature documentation, interviews, essays, audio and video about artists — both American and international — who work at the dynamic intersection of art and life, exploring creative process, community, politics and new innovations in storytelling.
EDITORIAL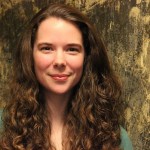 Megan McClain
R&D Program Director
Megan is a NYC-based dramaturg and theatermaker. She has guided the work of over 50 writers, composers, and directors creating original pieces of investigative theatre through the R&D Group fellowship. She has co-produced for the Civilians' live cabaret series and provided dramaturgical support for productions. She is the Resident Dramaturg for Superhero Clubhouse, an ensemble of artists and scientists devising works at the intersection of ecology and theatre with productions at La MaMa and Odin Teatret. She has developed new theatrical work during artist residencies granted by The Metropolitan Museum of Art, Drama League, NACL Theatre, Catwalk Institute, Stony Brook University, and the Lower Manhattan Cultural Council. Additional dramaturgy/literary work for: Goodman Theatre, Disney Theatrical, Hartford Stage, PoNY, Playwrights Realm, The Lark, Target Margin, New Georges, PlayPenn, and American Players Theatre. M.F.A Dramaturgy: University of Massachusetts Amherst.
EDITORIAL ADVISOR
Steve Cosson
Steve is the founding Artistic Director of the Civilians. He is a writer and freelance director, directing new plays, musicals and classics. Recent credits include "The Belle of Amherst" starring Joely Richardson, the Civilians' "The Great Immensity" at the Public Theater, and Anne Washburn's "Mr. Burns" at Playwrights Horizons. Steve won an Obie in 2004 for the work of the Civilians. He has been a Fulbright Scholar in Colombia, a MacDowell Fellow, Resident Director at New Dramatists, and he has twice participated in the Sundance Theatre Lab. His plays have been published by Oberon Books in the UK, Dramatists Play Service, and Playscripts Inc. in an anthology. He holds an MFA in directing from UC San Diego and a BA from Dartmouth College.