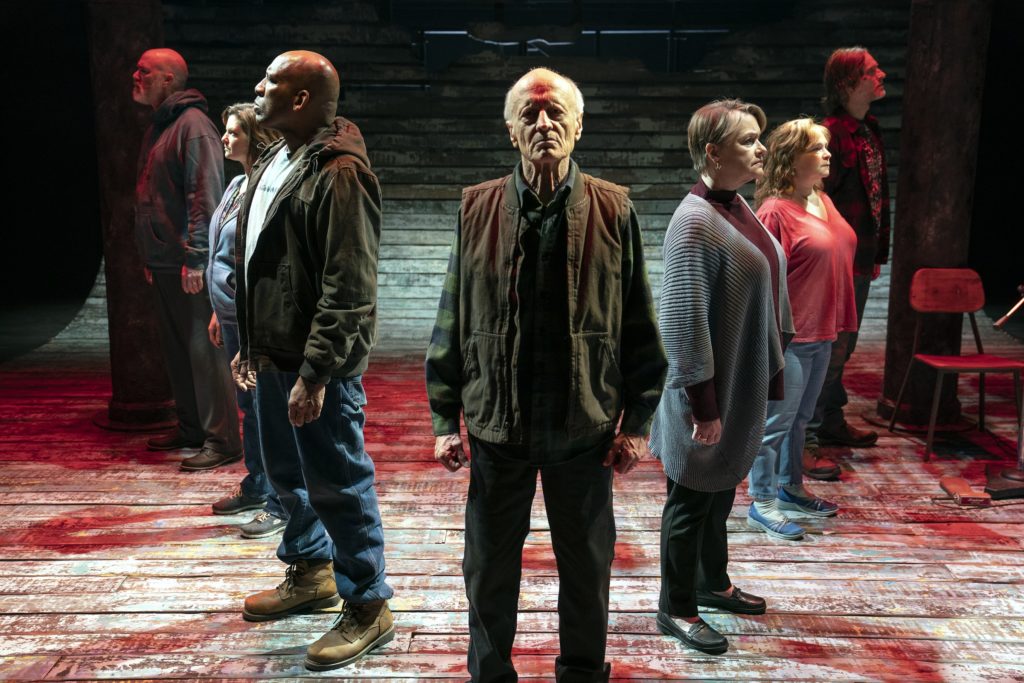 On April 5, 2010, 29 miners were killed at the Upper Big Branch Mine in West Virginia in the worst American mining disaster in the last forty years. Ten years later, documentary theater-makers Jessica Blank and Erik Jensen helped bring the stories of the families of those who died to life in Coal Country at The Public Theater. That production, directed by Blank, ran from February through mid-March before its abrupt cancellation due to citywide precautions to address the coronavirus pandemic.
Coal Country grew out of four years of Blank and Jensen's work in collaboration with musician Steve Earle, drawing on over a dozen interviews conducted in West Virginia with families affected by the disaster. Weaving together those stories of individuals who lost loved ones with musical interludes from a Storyteller portrayed by Earle, the play paints a bigger picture of the corrosive effects of capitalism, as corporate greed overruns mining safety precautions with impunity, leaving one community saddled with a grief that continues to this day.
Blank and Jensen are a married couple known for their documentary plays The Exonerated, about exonerated death row inmates,and Aftermath, which explored the experiences of Iraqi refugees living in Jordan. They first gave interviews for this piece in early March, in the weeks before and after the show closed.
Although he now lives in New York City, Jensen felt connected to the people he met in West Virginia due to his rural upbringing. "I grew up working poor, and then we clawed our way up to the working class. It was farm country Minnesota which is different, but the skill sets are not dissimilar, like knowing your way around machinery." Speaking with Stanley "Goose" Stewart, one of the subjects of the play, felt familiar, "like he easily could've been one of my uncles or my next-door neighbor."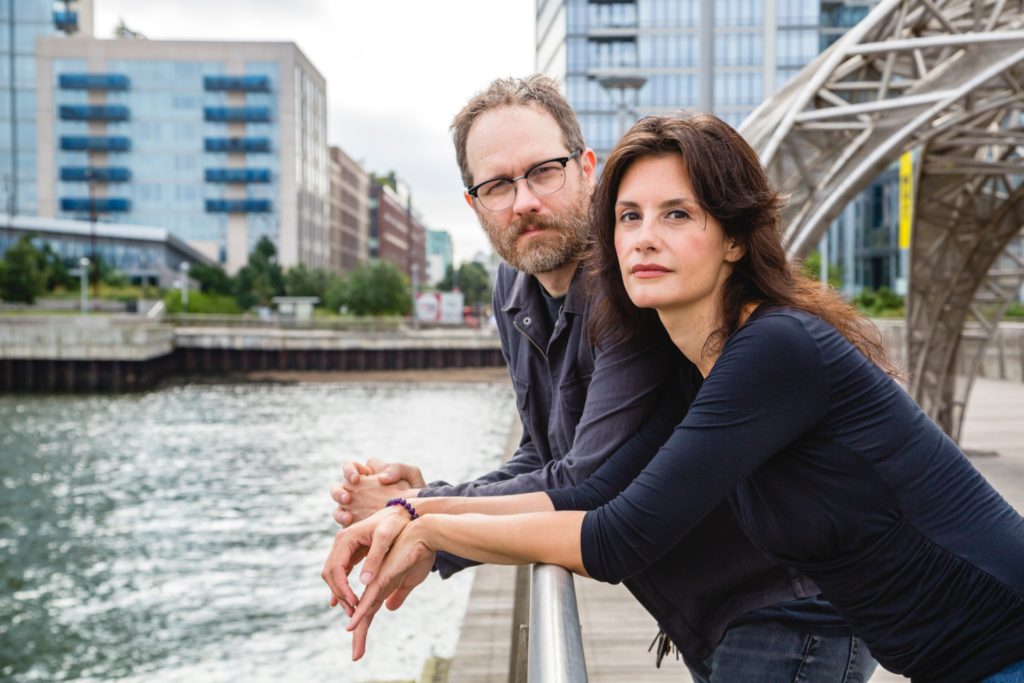 While developing the play, Jensen's father and uncle died within weeks of one another. Mourning his relatives brought home the devastation the West Virginia families went through. "For the first time in my life, I was feeling grief, and I multiplied that by 29 and my heart just about couldn't take it," Jensen said.
In the face of a combative media, legal gag orders, and sustained corporate pressure, the mining families struggled in the aftermath of the disaster. This horrified Jensen.
"Them not being allowed the dignity of their grief really fucking upset me and that kept me going, because there's something to be learned from people who are grieving," Jensen said. "Engaging with the worst thing that ever happened to them and sharing that story with the world—that's brave. I hope that we can afford them some of the dignity that wasn't granted to them by these other individuals."
Blank saw a clear need to bring these stories from rural America to metropolitan areas like New York City. "In a lot of the communities that I move in, there is a real othering of rural working-class people that happens. I think that's a big part of why we're in the mess that we're in as a country." In this play, she and Jensen saw an opportunity to transmit the emotional experience of this story to people unfamiliar with the disaster and help bridge the gap between those communities.
"On the most basic levels, when you do theater right, grief is the same for everybody regardless of what part of the country you live in. Loss is the same. Hope is the same. We relate to all those things," said Jensen. And while Blank emphasized that theater doesn't erase differences between people, she offered the belief that theater can "create a container in which we can empathize across differences and feel those connections."
The play opened on Tuesday, March 3. The following Saturday was an immensely important day for the husband and wife team, as the West Virginian families depicted in Coal Country came to see the show. "The only things I can compare Saturday to were the first time that the exonerated folks came and saw The Exonerated, which was a similar kind of encounter, and the day our daughter was born," said Blank.
The visit wasn't without trepidation. As a team, Blank and Jensen make a practice of not chasing interviews for the projects they conceive, and only speak with people who are open to discussing their stories. It was important to them that their subjects felt that they had been portrayed faithfully. "I have a medical doctor's version of myself as a writer, kind of a 'do no harm' thing," said Jensen.
Fortunately, the day ended up being a positive experience. Although the families knew one another beforehand, some learned new information about the care their deceased loved ones received through seeing the show. Above all, the experience of seeing an audience of strangers relate to their loss was meaningful. "All of them said, 'We thought nobody cared.' It's been almost ten years since this explosion happened and all this time they thought nobody outside of that immediate area cared," said Jensen. "That's just astonishing to me that we leave each other alone like that."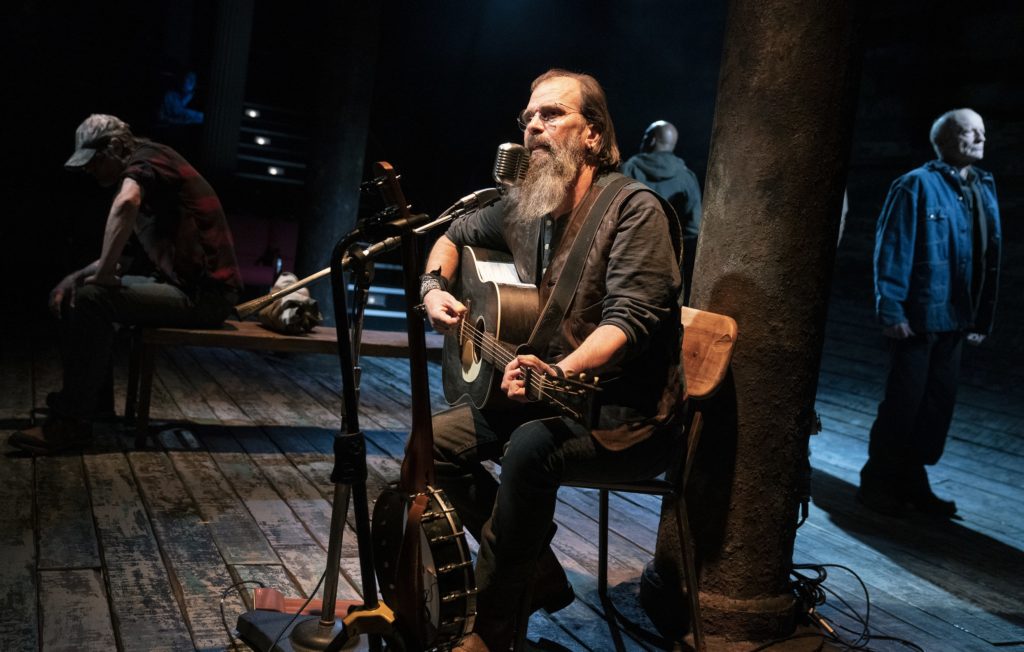 The journey from that cathartic encounter to closing only days later was whiplash-inducing. "There is a rhythm and a cycle to the life of a play where you know you want it to live a long, healthy life and have an idea that it's coming to an end when it's coming to an end and be able to recognize and mark and ritualize that, say goodbye—all of the ritualized nature of theater in that way is really important," Blank said. Cancellation in the middle of a run prematurely interrupted that cycle.
In a moment of profound uncertainty about the future of the theater industry, Blank looked back to her experience of living through 9/11. "I still remember that period of time when none of us was sure that anybody would ever make theater again," she said.
"You don't know where the next step of the process is going to come from, especially in times like this. I think that's always true," Blank said. "We think we can predict it normally and then something like this forces us into admitting that we don't actually know what's going to happen next."
For Blank, the resilience of theater artists will be key moving forward. "None of us are in it for the money. None of us are in it for the leisurely hours. We're in it because we love it and there's a certain toughness and resiliency that comes from doing this for a living. I think theater folks are a community and community is really part of what creates resiliency. And we'll bounce back."
Although it has been two months since the show was suspended, Blank and Jensen continue to push for Coal Country. "We've been entrusted with this extraordinary responsibility by these folks trusting us with their stories, and so it's our responsibility to not fold our hands and go, 'Well, theater's on hold for a month so I guess we're screwed and that's it,'" said Blank. "We have to keep working with The Public Theater, to keep working with representatives, to keep working with other production companies to explore every avenue possible for getting this story out in the world, and not give up on that just because we don't know what's going to happen next."
As the country begins to reopen, Coal Country's portrayal of the risks workers face under mounting economic pressures feels as timely as ever. Since the play closed, Coal Country received several Drama Desk Award nominations, which may help the show as its creators look toward its future. The set remains standing in The Public Theater's Anspacher Theater. Blank and Jensen are exploring ways to convert the show into an audio play, and Earle is releasing his album Ghosts of West Virginia, including songs featured in Coal Country, on May 22.
On the tenth anniversary of the Upper Big Branch Mining Disaster—a day when relatives would have gathered in person and Coal Country was scheduled to give its closing night performance—the country remained shut down. So, in lieu of closing, Earle played songs from the play on Facebook for Coal Country Quarantined, and the three co-creators released a tribute video from The Public Theater. Although the world had changed drastically from when they began this project, their message remained the same: "Your 29 men will never be forgotten."