Last weekend, I took my three-year-old daughter to the New York City Children's Theater's new immersive adaptation of Lindsay Ward's "Please Bring Balloons." Full disclosure, my wife is the graphic designer for the company, and we've had the fortune of taking our daughter to several New York City Children's Theater productions. This one was a little different. At this show, my daughter got to play with the performers. She tossed "snowballs" at her friends. And she danced with polar bears.
I had a chance to speak with the director of the play, Sara Morgulis, and we discussed what it's like to make theater for very young children and how sensory play offers a natural framework for immersive theater.
"Please Bring Balloons" plays through March 5, 2017. This interview has been edited for length.
---
JAMES CARTER: What's your role over at New York City Children's Theater?
SARA MORGULIS: I am the Associate Director of Education.
JAMES: And you're also directing "Please Bring Balloons."
SARA: Yes, which is really exciting because our education departments and artistic departments are usually a bit separate in terms of the main stage productions, so this is a super exciting opportunity for me to then be involved with our mainstage productions.
JAMES: What's the difference between the two, and why are they coming together for this production?
SARA: Usually, we run our education programs in schools and community centers, and we have about four mainstage productions each year that take place at various theaters around the city. This really came together because last year I helped to create a workshop for us called "Five," which is an interactive, multimedia, multisensory workshop that has traveled to schools and community centers in the past year and a half. I co-created that with our director of education Brooke Boertzel. That got me interested in using sensory experiences in theater, and I was also funded with an award from Theater for Young Audiences of the U.S.A. to travel to London and work with this amazing theater company called Oily Cart that creates a lot of immersive, multi-sensory theater. So I came back and put together "Five"—which is a show—with Brooke, our co-artistic director Emma Halpern. Our artistic director Barbara (Zinn Krieger) noticed my love for this multi-sensory, immersive theater, so when they announced that they were going to be doing "Please Bring Balloons" and it was going to be their first show for kids ages two to five…they asked me to come on and direct it, since I'd just finished developing this piece called "Five."
JAMES: What was the name of the company in England?
SARA: It's called Oily Cart Theater. Oh, you will love them, if you don't already know them. They are incredible. I went over there specifically because "Five" is designed for students with special needs, and the very young—pre-K through 2nd grade, in our case—and Oily Cart specializes in making theater for that population and has for the last 35 years. So when I had this idea that I was going to create this show for our company, they were absolutely my first choice who to go research and spend time with.
JAMES: That's very cool. Did someone else choose "Please Bring Balloons," or did you? Where did it come from?
SARA: Barbara and Emma had the thought to do our first piece for two to five-year-olds, and they reached out to David Kilpatrick, who is the manager for Theater for Young Audiences at the Kennedy Center. He sent them treatments for several books, and they picked "Please Bring Balloons." It's one of David's favorite children's books.
JAMES: This is the first production the company's done for children of this age.
SARA: It is.
JAMES: So, then, how is "Please Bring Balloons" going to be interactive and multi-sensory? And tell us a bit about multi-sensory. I know because I have a three-year-old that's done multi-sensory play, but maybe other people don't. Tell us a bit more about that and how it's going to work into the adaptation.
SARA: We find that the way to engage audiences that are this young is by engaging their five senses in this immersive world. I'll just give you an example. The moment they enter the theater they are given a ticket to ride the carousel in the park, and they will come and actually sit on stage in the park. And they'll be sitting on grass, so they'll get to feel the grass. They will create imaginary balloons and blow up imaginary balloons with Emma. Then, Emma will take them on this multi-sensory immersive journey to the North Star, and when they are on the North Star they will touch snow and touch snowballs and feel the wind. It's really engaging them in their senses through storytelling.
JAMES: And what do you hope will happen?
SARA: That they will be more engaged in the storytelling because they will be part of it. There are several moments in the story that the action cannot continue without their help. So we cannot fly to the North Star until they have blown up their imaginary balloons to then put on the polar bear's saddle, so the polar bear can take us all to the North Star. At one moment in the show, the show erupts into this really amazing dance party. The highlight of the show is that we are going to the North Star so that we can dance at what's called the "Polar Bear Rumpus." So all of the young audience will get up and actually dance in the middle of the stage. They will be completely immersed in the party.
JAMES: David is creating the piece with you. What's the difference between this and a more traditional show?
SARA: He sent us a draft over the summer, and then he actually came into town and he and I directed a workshop of it together. He came in and was part of the rehearsal process for a workshop. And then we took a workshop into the Montessori school. We worked with two to three-year-olds and four to five-year-olds. And it was a fantastic part of our process because we got to see what worked for the four to five-year-olds, and what they loved maybe didn't really work for the two to three-year-olds. It was a great opportunity for us to see what was landing with the different age groups, what was a little bit too advanced, or what worked really, really well.
In terms of directing a piece like this, our design is really important. So I would say that the prop design and the sound design and the set design all have to be working in this beautiful tandem so we are creating a full world for the kids who are part of the audience. It's a lot of trial and error in terms of bringing in a prop, seeing if it engages. We learned a lot about what kinds of materials really engage the kids and what materials engaged us. I think that when I am trying out a prop or trying out a piece of the design for the show, I like to see whether I am excited about it. I also work for an organization called Actionplay, and so I work each with students on the autism spectrum. One of my biggest passions in life is working with students on the autism spectrum, and for them, because of their sensory processing disorder, I'm always very much in the framework of mind of making everything super sensory friendly, and my students are always bringing in new sensory objects. We're always trying to think about how to engage their senses. Living in that world has allowed me to be super sensitive to that in my directing process for "Please Bring Balloons."
JAMES: You've spoken about working with children with complex disabilities, and you just talked about autism. But the show, itself, is for a general audience, right?
SARA: Right.
JAMES: But are you going to be doing any special performances for those audiences, or are they going to be integrated with the general audience?
SARA: We are not doing special performances for that population as of now. They will be integrated.
JAMES: Great. Over the past couple years, I've been getting into performances that are accessible.
SARA: Absolutely.
JAMES: I've been mostly looking at accessible performances for adults, but the idea that you're creating a piece that's going to be accessible for children is pretty exciting.
SARA: It's in my mission statement in my bio. That is my mission as an artist—is to create this accessible, inclusive theater for all. And I think that someone with a sensory processing disorder or someone on the autism spectrum could absolutely come to our show and really enjoy it because of all the sensory elements of the show.
---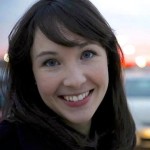 Sara Morgulis is an applied theater artist and educator who is dedicated to engaging young people through accessible and inclusive theater practices. She holds an MA in Applied Theater from the City University of New York and a BFA in Acting with a Minor in Education Studies from Syracuse University. Sara co-presented her master's thesis research on using theater in peer education at the 2013 American Alliance for Theater and Education conference. Her research about training young people to be applied theater peer facilitators will be published in an upcoming edition of Research in Drama Education: The Journal of Applied Theater and Performance. She also teaches programming at Actionplay, an organization dedicated to providing people on the autism spectrum equal access to the arts through programming, professional development, and training modules. Sara has also worked onstage as a teaching artist and actor at several regional theaters across the country including People's Light and Theater Company in Malvern, PA, Syracuse Stage in Syracuse, NY, and Asolo Repertory Theater in Sarasota, FL. Sara is the proud recipient of the 2015 TYA/USA Ann Shaw Fellowship Award. Sara used the award to visit Oily Cart Theater in London in May 2015 to experience the re-launching of their show, The Bounce.